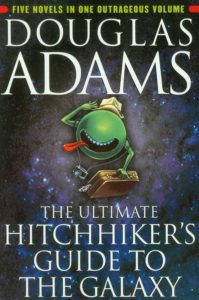 Douglas Adams* fans will immediately recognize "42" as the answer to the question of Life, the Universe, and Everything, which is commonly interpreted as "What's the meaning of life?"
42 is, of course, a non-sensical answer to that most important of all questions. But it's also an appropriate answer, because the question itself is absurd: There is no one "meaning of life"; everyone must make their own meaning. Whether you find your meaning in your religion, your work, your family, or elsewhere, we each need to find it for ourselves.
In addition to each of us having our own meaning, meaning can change throughout our lives. For a time, meaning may come from trying to forge a career. At other times, you may find meaning in raising children. And in other periods of your life, meaning may come from devoting yourself to a cause.
In the end, it's not important where you find meaning, merely that you do. That's the thing.
*For those who aren't familiar with him, Douglas Adams is the late, lamented author of the "Hitchhiker's Guide to the Galaxy" trilogy (in five parts), which I highly recommend to fans of fantasy, science fiction, English humor, or just humor in general.